Remember those old Peanuts cartoons from the 60s? Well the most terrifying one was about to be in my mind. One morning, a package came to my house. I ran outside before my dog did. I cut the package open. It was a Peanuts DVD. The title read, "Go Kill Yourself Charlie Down". Why the heck was the word Brown replaced with Down? Eh. I don't care. Well, i don't care. Back to the story: Later, i put the disc in my DVD player. It had no Warner Home Video logo or Paramount logo like usual. It starts out with Charlie brown alone walking on the street with his one piece of hair deleted. Creepy sounds are heard from the sky also in this scene. It cuts to black when the most discussing and saddest scene showed up. It shows Charlie hung from a noose on a playground. His face is replaced with a creepy doll face. Also the sky is red. Then it cuts to white for a split second before going back to the image. This time, the playground is wider and all characters are hung next to Charlie. The sound is replaced with what sounded like the Charlie Brown Christmas closing theme playing backwards. This scene went on for 4 minutes before going to black. The movie ended there. I took the disc out and smashed it to bits. I am now going to watch the real Peanuts cartoons now.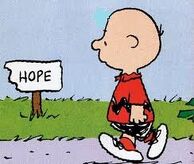 Ad blocker interference detected!
Wikia is a free-to-use site that makes money from advertising. We have a modified experience for viewers using ad blockers

Wikia is not accessible if you've made further modifications. Remove the custom ad blocker rule(s) and the page will load as expected.